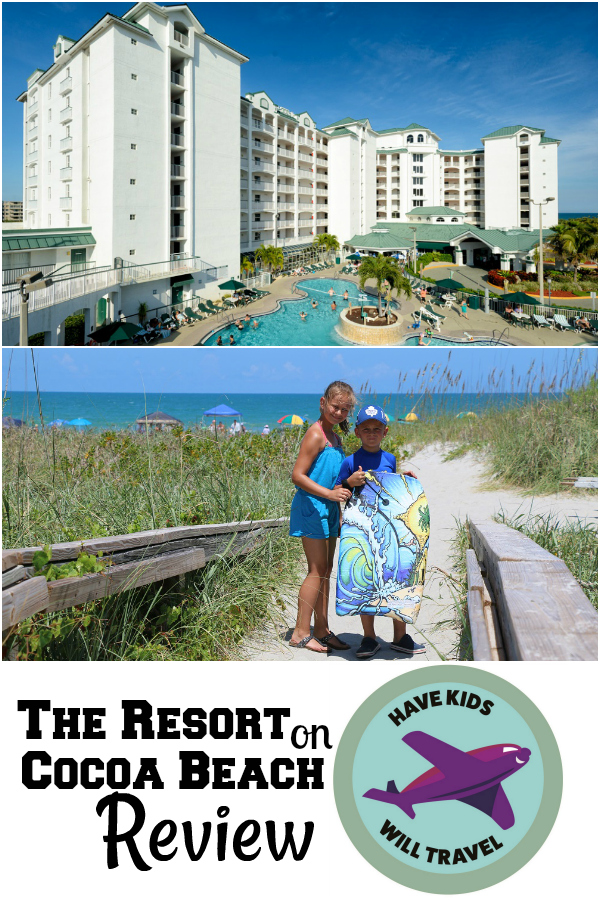 One drawback that most Resort on Cocoa Beach reviews fail to mention, is how you'll be fantasizing about moving in and surfing for a living.
Looking for some Resort on Cocoa Beach reviews?
We frequently visit Orlando, Florida, and Walt Disney World is usually our destination. But the one thing Disney World doesn't have is a beach. So if you're seeking some Disney magic but also some sand and sea, Cocoa Beach is the perfect place to start or finish your trip. And The Resort on Cocoa Beach is the perfect Cocoa Beach hotel with all the comforts of home that still feels like a vacation property.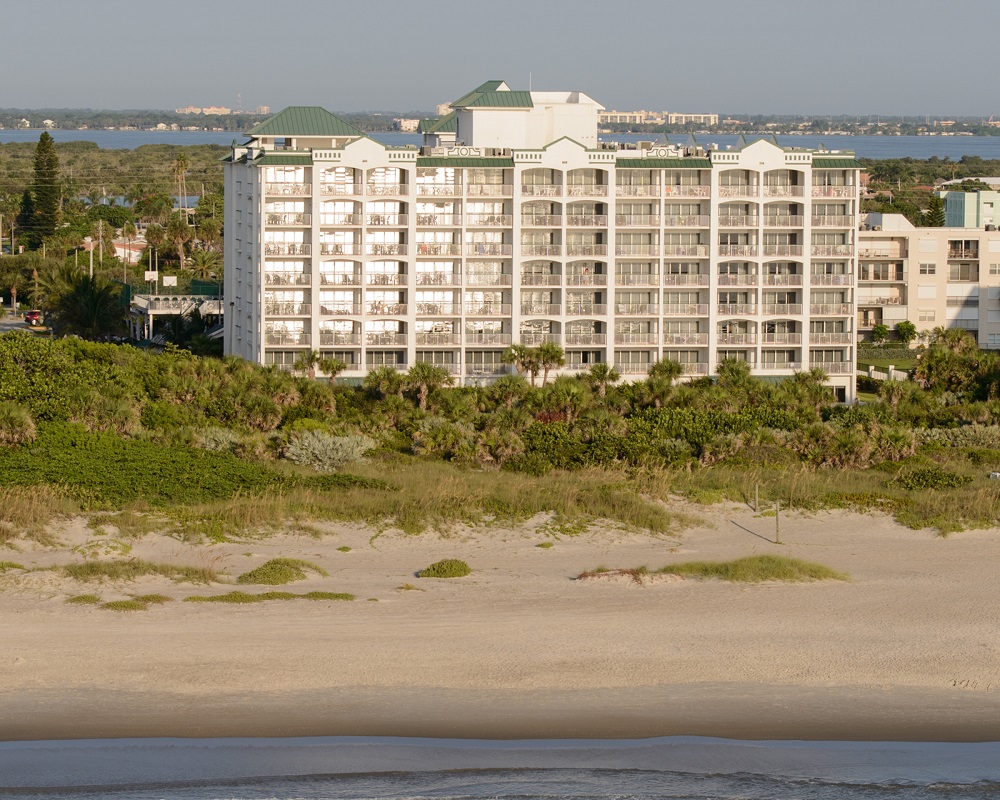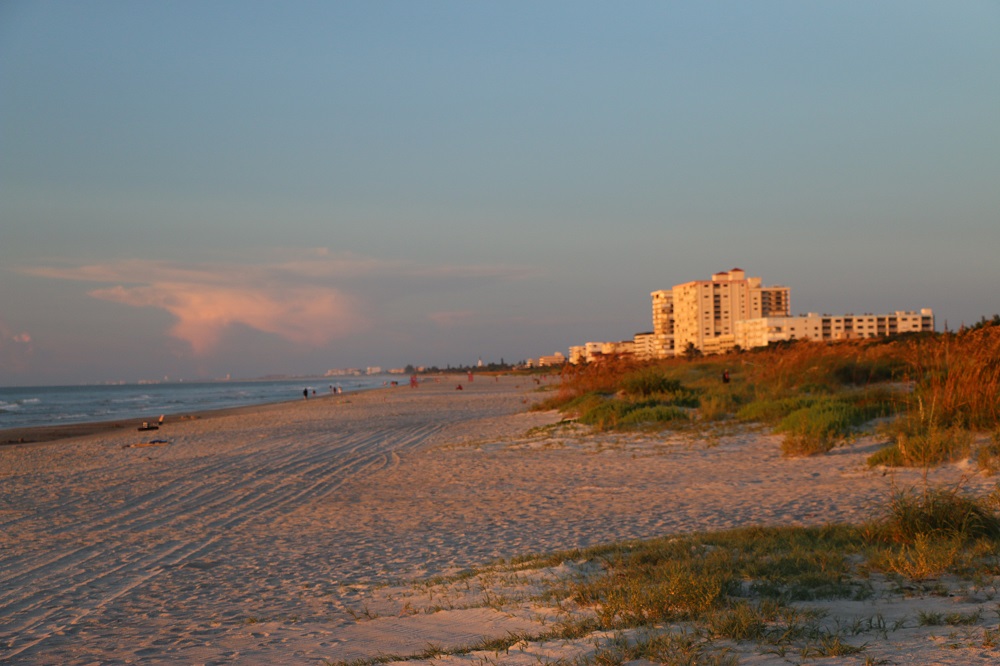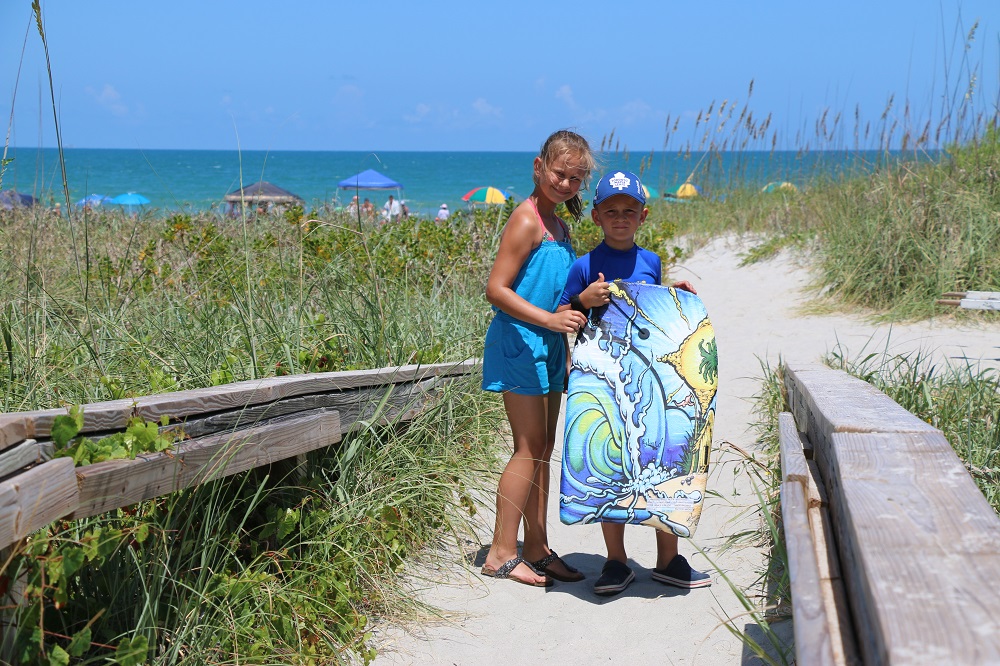 The Resort on Cocoa Beach: Location
It's pretty easy to get around Cocoa Beach, most hotels, restaurants, and shopping are located along the stretch of the AIA that's known as North Atlantic Avenue in Cocoa Beach. The Resort on Cocoa Beach is located south of the pier and in between the Royale Towers and the Hilton Cocoa Beach. It's nice to not have to drive everywhere–a few restaurants and a couple of banks are within driving distance.
The Winn Dixie grocery story is just over a mile up the road, and Walgreens and CVS are just a bit further north. Those would be ambitious walks! Cape Canaveral Hospital is five minutes away.
The hotel is located on a great big stretch of beach, where the water entry is pretty gradual but the waves are sometimes intense. The walkway to the beach has a shower and foot shower closer to the hotel. The boardwalk and sand can be HOT! Make sure you have appropriate footwear to get you to and from the beach.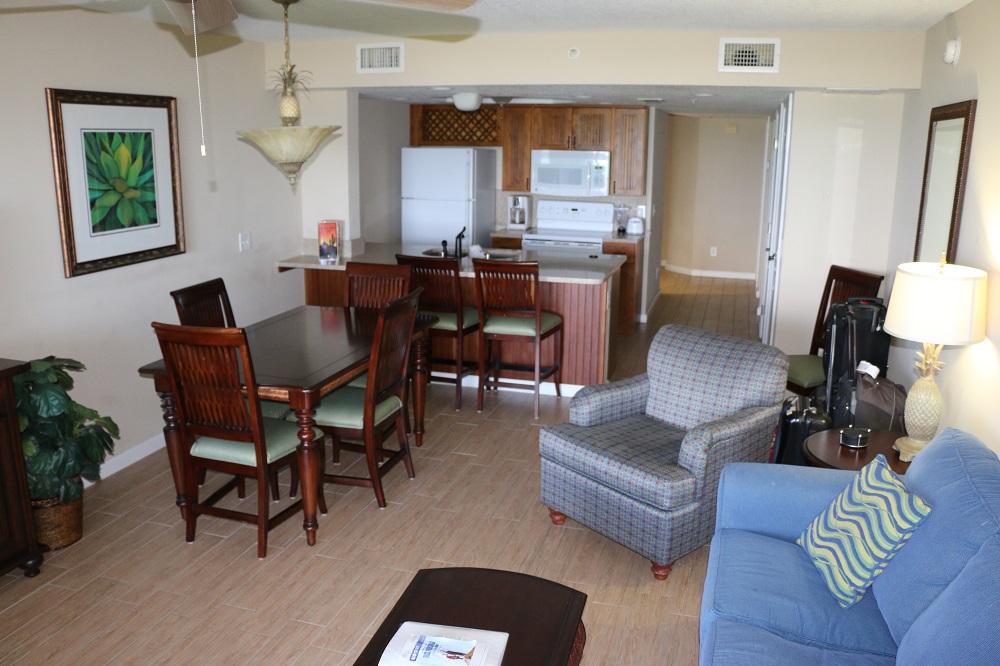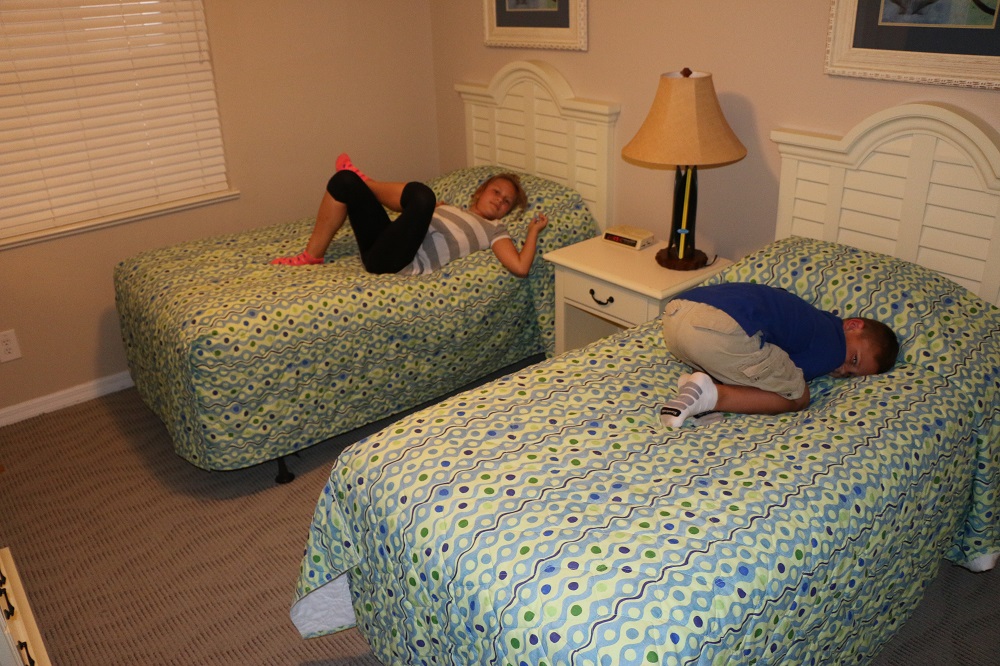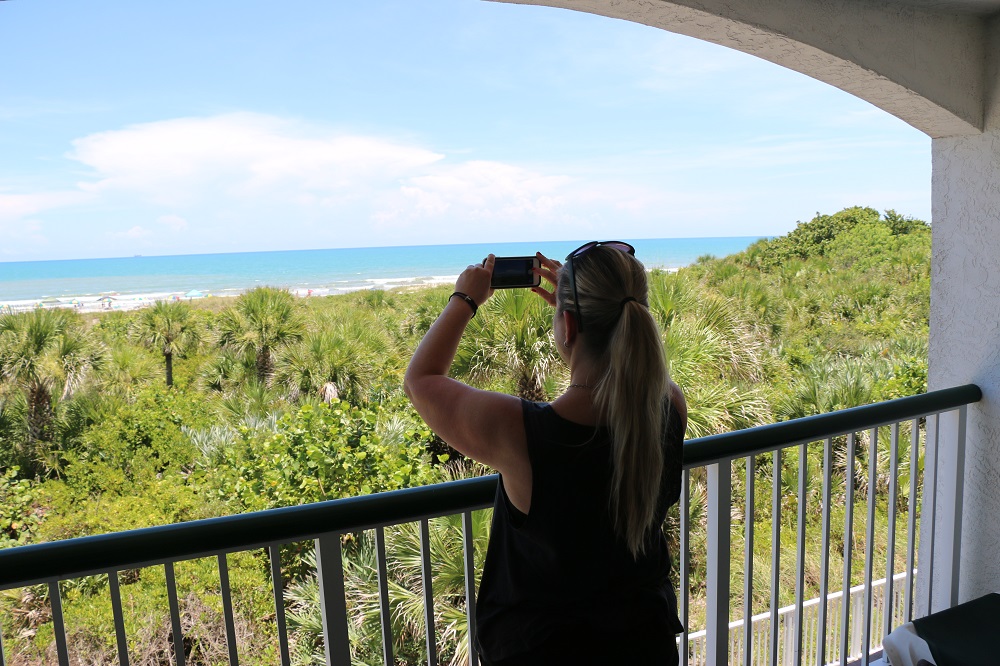 The Resort on Cocoa Beach: Rooms
All guest rooms at The Resort on Cocoa Beach are two-bedroom apartments with full kitchens and a washer and dryer. The Primary Bedroom has an ensuite with jacuzzi tub and separate shower, and the main washroom for the unit features a shower only. The kitchens are fully-stocked with cooking utensils and dishes, and also includes a supply of soap and paper towels.
We had an Ocean View room and it provided many Instagram-worthy sunrises!
The Primary Bedroom has a king-sized bed, and the 2nd bedroom has two twin beds. The couch in the living room pulls out into a bed, and you can reserve a crib upon request. All bedding and linens are provided.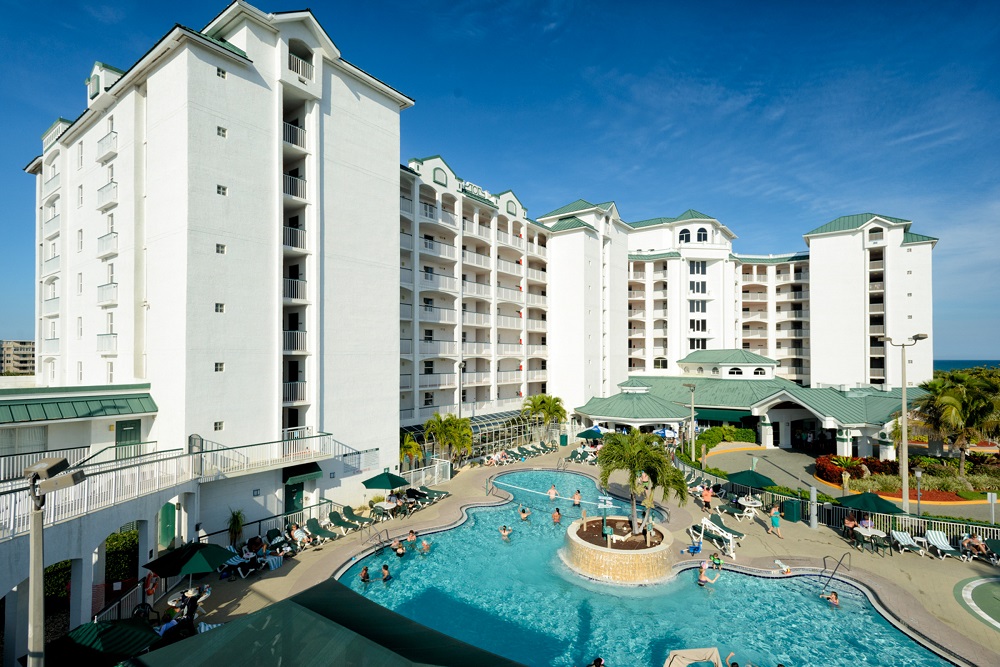 The Resort on Cocoa Beach: Amenities
The pool at The Resort on Cocoa Beach is pretty great and is open quite late. The kids can still go for a dip if you arrive in the evening after a long day of travel. There are plenty of lounge chairs, a decent amount of shade, and lots of pool activities. Towels can be signed out in the lobby with your room key.
The Tiki Bar at the pool is quite reasonably priced, and the food is pretty good. If you fancy an easy dinner of burgers and fries there's no need to venture out if you eat early. We did not have the opportunity to try the in-house Mexican restaurant, but there was always quite a few people there.
The resort does not provide beach chairs or umbrellas, but you can rent them on the beach. They do have an in-house theatre with popcorn, as well as a full basketball court, games room, and free Wifi.
Find the best deal, compare prices, and read what other travelers have to say about The Resort on Cocoa Beach at Tripadvisor
The Resort on Cocoa Beach: What's Nearby
There is lots of fun stuff to do in Cocoa Beach. Here are a few of our favourites…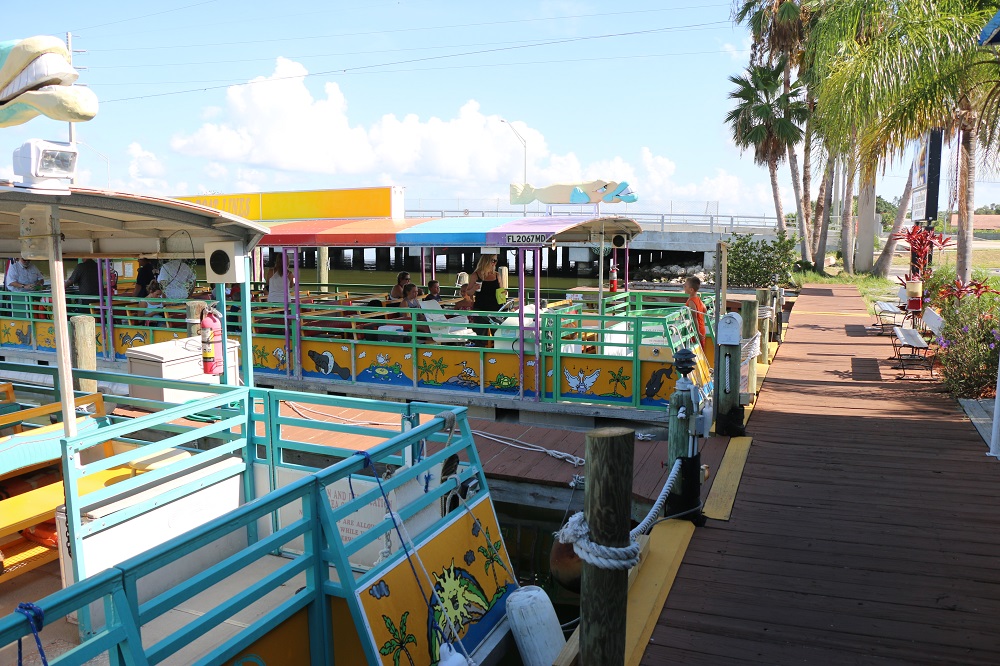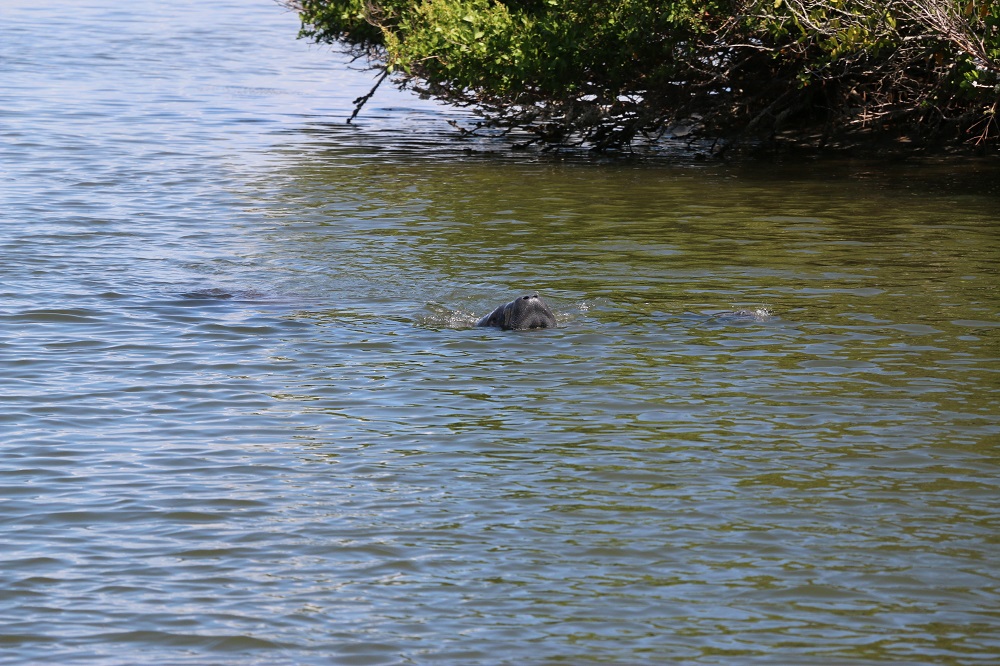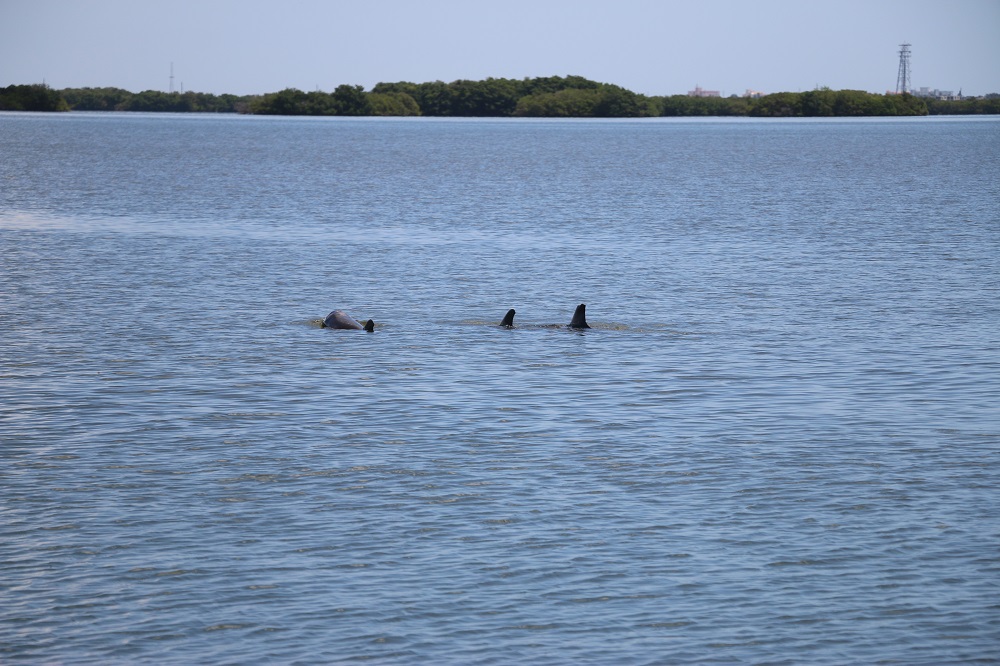 A highlight for my nature-loving kids was a two-hour boat cruise through the Indian River Lagoon. We saw lots of cool birds, but, the stars of the show were the manatees and bottle-nose dolphins that came out to say, "Hi!" while we were cruising by.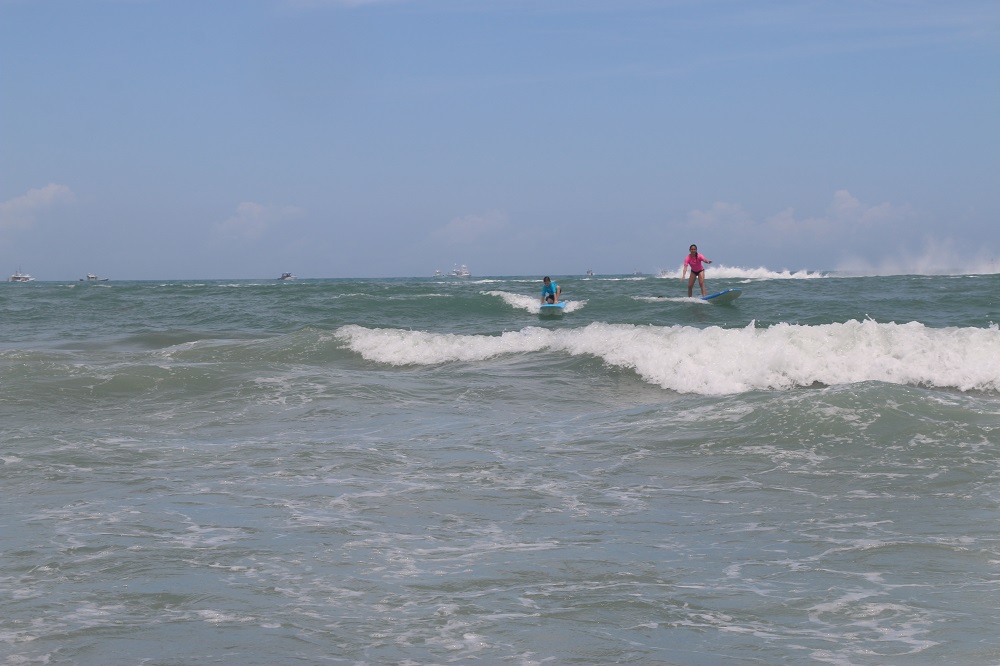 I won't lie, surfing is really hard. Well, for me anyway. My kids were up on their second wave! We did a two-hour semi-private surf lesson with Ron Jon's Surf School. They provide a rash guard, surf board, and a locker to stash your gear as you head to the beach. You are taught the basics, and then out to the waves you go!
Stock up on sunscreen and pain relief medication. And be prepared to think of ways to plan a whole vacation around surfing, once you can walk again 🙂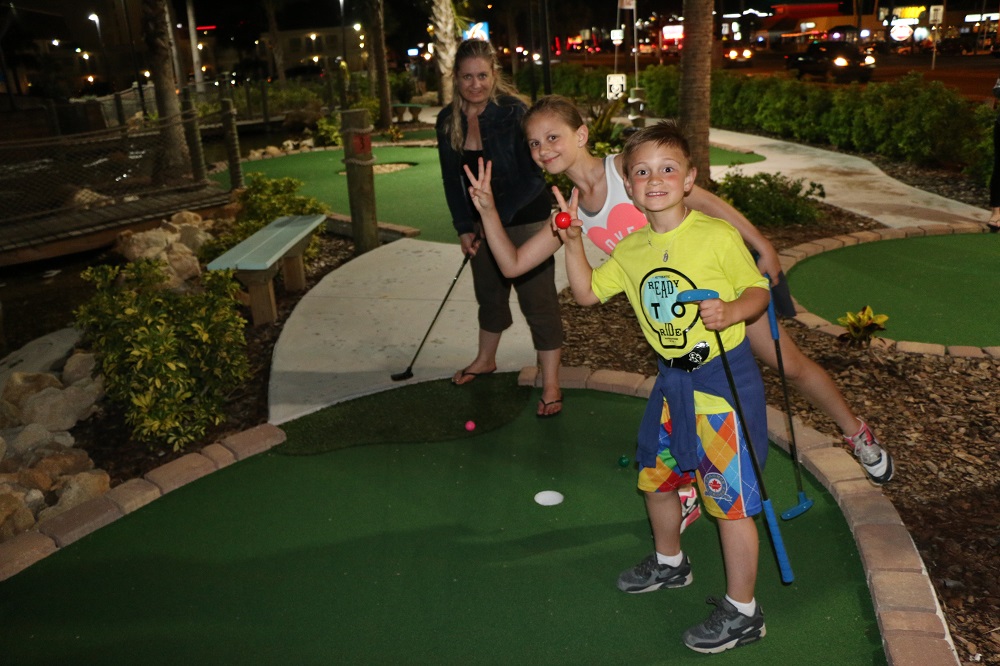 Mini Golf is not usually a big part of our lives, unless we're visiting Cocoa Beach. We've gone in the evenings since it's so hot during the day. At Lighthouse Cove Mini Golf, there are two courses you can golf, and an incredible selection of gourmet ice cream AND craft beer to enjoy while you hit the links. That must be why I crush my family every time we golf 🙂
When you do as much Disney as we do, I was skeptical that Kennedy Space Center would be any fun. Boy, was I wrong! Kennedy Space Center is simply a must-do. Plan to spend a full day. Even my (then) seven-year-old was enthralled, and now his favourite movie is Apollo 13.
We went from the rocket garden to the bus tour, to the Apollo Space Mission area, and then to the Space Shuttle. The Shuttle Simulator rivals any "spacey" theme park ride, and their burgers are pretty good, too. Plan to drop a lot of money at the gift shop!
I was really surprised at how much I loved our visit to the Kennedy Space Center, and it has totally stuck with my kids as well.
*************************
The Resort on Cocoa Beach: Just the Facts…
Getting there:
The Resort on Cocoa Beach is less than a 60-minute drive from Orlando International Airport. The fastest and most direct route has tolls, so please make sure you have some American dollar bills and small change handy, since some of the toll booths are not manned.
Getting around:
The great thing about The Resort on Cocoa Beach's location, is it's not necessary to drive everywhere once you've arrived. There are a couple of banks across the street, as well as a few restaurants within walking distance.
Where to eat:
The rooms at The Resort on Cocoa Beach all have full kitchens, and the Publix grocery store is a minute away by car. The on-site Mexican restaurant is well-regarded, and the pool bar has great burgers and other pub food that is yummy and very reasonably priced.
There are lots of great restaurants in and around Cocoa Beach. Some of our favourites were:
What's included:
The Resort at Cocoa Beach features a Heated Outdoor Pool, Hot Tub, Sauna, Fitness Center, Restaurant/Lounge, Beach, Beach Towels, Tennis, Full Court Basketball, Pool Volleyball, Regulation Outdoor Shuffleboard, Ping Pong, Corn Toss, Game Room, Movie Theater, Indoor Play Center, Tiki Bar, BBQ Area, and Free WiFi
All Condos are Two Bedroom, Sleep Six, with Full Kitchens, Dishwashers, Washer/Dryer, 3 TVs, Jacuzzi Tub
Find the best deal, compare prices, and read what other travelers have to say about The Resort on Cocoa Beach at Tripadvisor
We traveled to Cocoa Beach with the assistance of Florida's Space Coast Office of Tourism. All opinions remain our own.
Have Kids Will Travel is a participant in the Amazon Services LLC Associates/Influencer Program. If you make a purchase through this site, we may receive a small commission. Click here to check out our Amazon Store.
See Also: