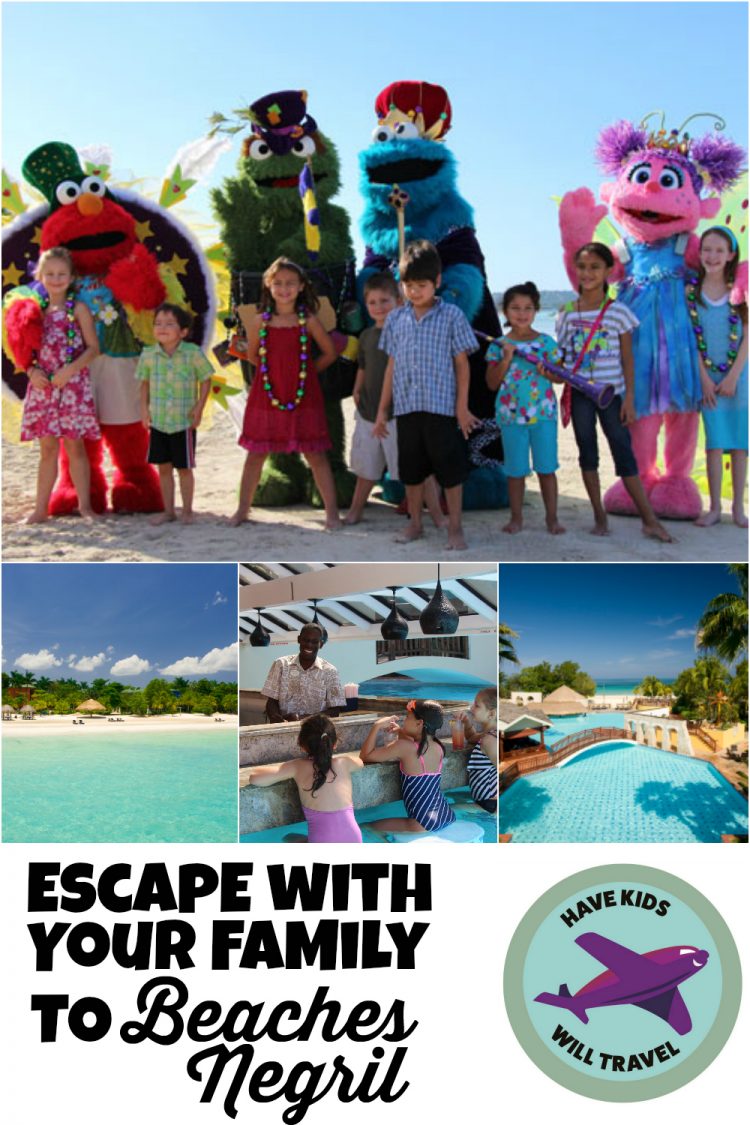 Beaches Negril reviews don't lie. The luxury family-friendly resort sets the bar high for a family vacation your kids will never forget.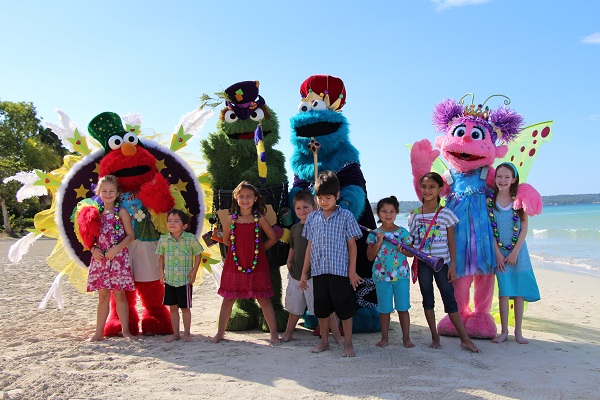 When your kid asks daily when you're returning to Jamaica, it's safe to say your trip had an impact. Add this one to the list of glowing Beaches Negril reviews.
In spite of traveling since he was 10-weeks-old, my (then) four-year-old son is a bit of a homebody. He likes routine. When he started asking to come back to Beaches Negril while we were still there, it was clear he was pleased with his *new* routine of beach, pool, unlimited bacon at breakfast, cookies and milk before bed, and daily activities with Sesame Street characters. His (then) almost 8-year-old big sister was his age when she visited sister resort Beaches Turks and Caicos, so there was no surprise she chose to come with us instead of having her usual birthday bash at home.
A Bit About Beaches Negril…
I was surprised (and delighted) by how the Jamaican culture and flavours are completely infused into the atmosphere at Beaches Negril. Beaches Resorts and parent company Sandals are 100 per cent Jamaican-owned. The drive to Negril is roughly 90 minutes from the airport in Montego Bay. Beaches Ocho Rios is about two hours in the other direction. Negril is still pretty much a small town. And with the bonus of having the glorious 7 Mile Beach on one end and coral caves and cliffs on the other, it's truly the best of both Jamaican worlds.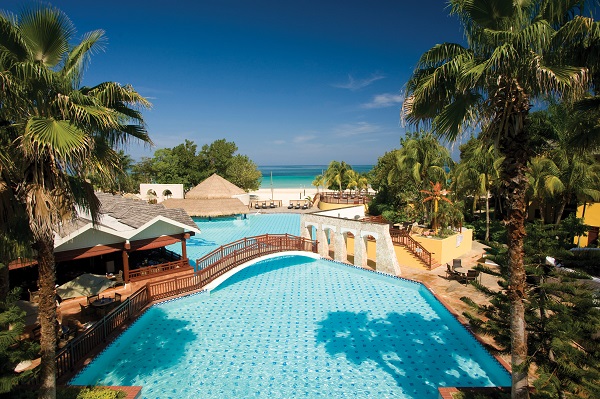 Voted the top Caribbean resort for families by TripAdvisor readers, Beaches Negril had a lot of hype to live up to. So, arriving to a Sesame Street Mardi Gras parade (complete with marching band) seemed appropriate. I was duly instructed by my son to "take lots of pictures so I remember it, and so we can show Daddy." But the difficulty with blowing your kid's mind upon arrival is the bar is set pretty high. However, over the next four days we were treated to exemplary service, delicious food, and lots and lots of fun. I knew we'd be adding to the list of glowing Beaches Negril reviews with our stay.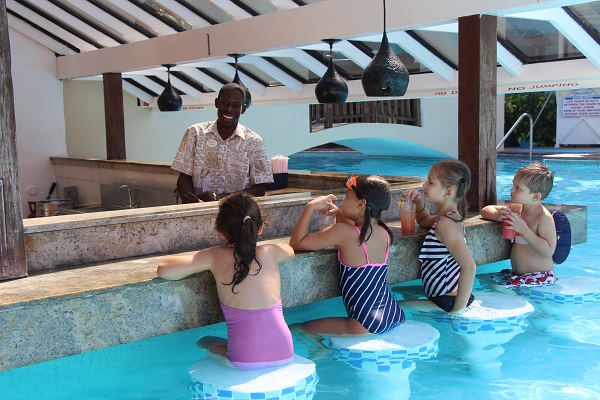 Beaches Negril: The Beach
Negril's 7 Mile Beach is seven miles (ha) of soft white sand and clear turquoise water. The entry to the water is very gradual and the Caribbean Sea is warm and calm. It's perfect for little ones. For us it was key to head to the beach first. Because once the kids hit the pools, lazy river, and waterslides, it's tough to tear them away. And I still laugh at the thought of them swimming over to the bar and ordering mocktails off the drink menu. For my son it was a "Strawberry Slushie" (virgin Strawberry Daquiri). My daughter highly recommends the Fairy Princess, of course.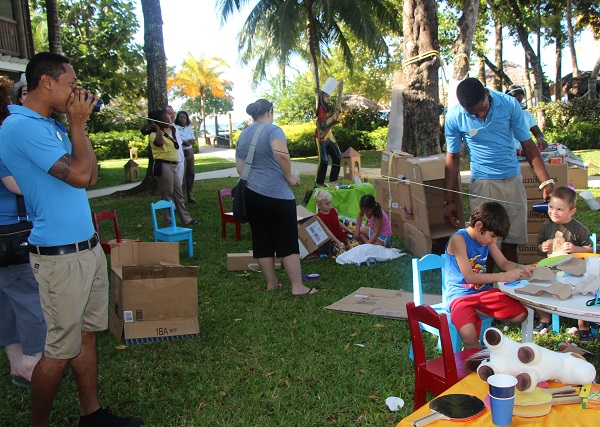 Beaches Negril: The Activities
Beaches' partnership with Sesame Workshop has been going strong for over ten years. One of the newer characters introduced to the resorts is Oscar the Grouch, who is in a seemingly better mood since he's in the sunny Caribbean. With the introduction of Oscar came a new activity. "Trash to Treasure" is facilitated by Pop-Up Adventure Play, a non-profit venture that sets the stage to transform "trash" like cardboard boxes, string, yarn, and tape into treasures of your child's imagination. My kids actually spent an entire morning creating a bakery out of boxes in the shade of the palm trees. I literally had to drag them to the beach.
A daily schedule of events featuring the Sesame Street characters is posted at the Kids Kamp and Nursery. My son did science experiments with Super Grover. Seriously. Character breakfasts and tuck-ins are extra, but watching your kids eat pancakes with Cookie Monster and get tucked in by Elmo are memories that are priceless.
Beaches Negril: Medical Facilities
Since we usually have some sort of mishap on every trip we take, I was grateful for Beaches' excellent on-site medical care. This time it was unexpected (and incredibly rare, for Negril) encounters with jellyfish that required visits to the nurse. A quick wash with vinegar and a slathering of cortisone cream did the trick, and now both kids have cool stories to tell their friends. And I know for future reference that jellyfish stings aren't as scary as they sound.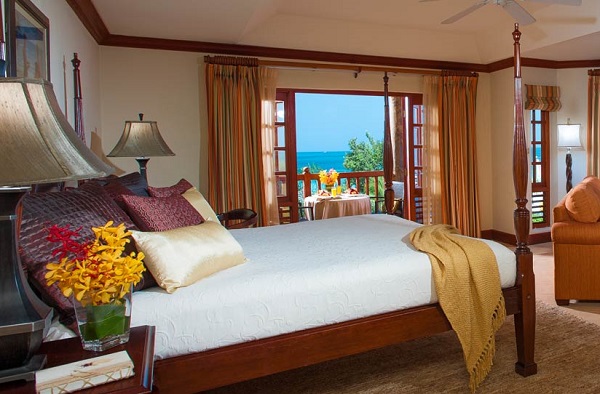 As with our earlier visit to Beaches Turks and Caicos, we met families that return to Beaches again and again. While some alternate between the three resorts (soon to be five, as new Beaches properties are opening soon in Barbados and Antigua), others are true Beaches Negril devotees. And their reasoning is simple; since they have limited vacation time, they take no chances. They want a holiday where the surroundings are lovely, the resort is spotless, the food is great, and the service is excellent. And they get that at Beaches.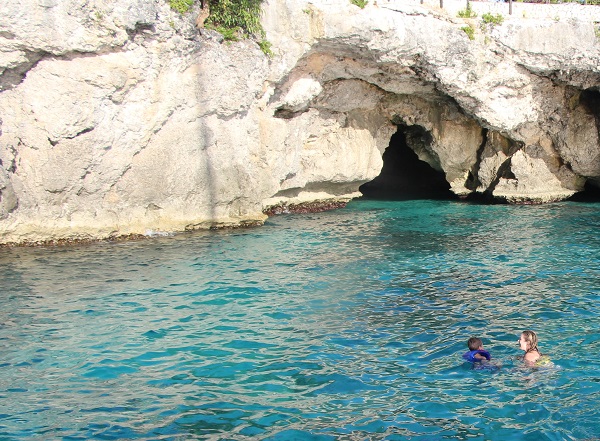 When it was the last day of our trip, we took an Island Routes catamaran trip up the coast. We slid off the boat and swam into a cave, where pirates used to hide treasures. Local kids scaled up the cliffs like Spider-Man, and jumped into the sea. We sailed back in the soft breeze as the sky was turning golden and pink and shimmered off the water. My son looked around and said to no one in particular, "I love Jamaica."
I hear ya, kid.
***********************************************************************
Beaches Negril: Just the facts…
Getting there:
Montego Bay's Sangster International Airport is served directly by both Air Canada and WestJet, as well as charters Sunwing Airlines and Air Transat. The flying time from Toronto is under four hours, and transfers to Beaches Negril are included. There is an arrivals lounge for Beaches and Sandals guests that serves snacks and drinks. There you can freshen up before your (roughly 90-minute) drive to Negril.
Getting around:
If you feel like exploring, the town of Negril is a five minute cab ride away. Lots of excursions – including horseback riding, ziplining, ATV safaris, and catamaran cruises –  can be booked directly through the resort.
Where to eat:
Those Beaches Negril reviews that rave about the food? No exaggeration. Beaches Negril houses seven restaurants, offering plenty of options and plenty of atmospheres. Enjoy custom pizza or fresh seafood on the beach or Jamaican patties by the pool. A standout was Kimonos, the Teppenyaki restaurant that combines a great show with accessible Japanese food. The Cafe de Paris is your go-to for all-day ice cream for the kids and coffee for mama. But, beware (or be glad!) that the Rum 'n' Raisin flavour does in fact contain rum. And so does the coffee if you order it that way 🙂
What's included:
Everything. Literally, everything…
Your vacation includes tips, all meals and drinks, kayaks, Hobie Cats, windsurfing, paddle boarding, scuba diving (up to two dives per day for accredited divers), pools, waterslides, Banana Boat, reef snorkeling, waterskiing, Hydrobikes, table tennis, day/night tennis, shuffleboards, lawn chess, fitness center, billiards, playground, mini golf, board games, spa facilities (treatments extra), staffed nursery & kids club, self-serve ice cream, supervised activities, Sesame St. characters, special kids' menus, Xbox® Play Lounge, Liquid nightclub
We stayed as guests of Beaches Resorts, but all opinions remain my own.
Have Kids Will Travel is a participant in the Amazon Services LLC Associates/Influencer Program. If you make a purchase through this site, we may receive a small commission. Click here to check out our Amazon Store.
See Also: