I'm delighted to publish this story by my dear friend and former co-worker Andrea Chrysanthou. Andrea works full-time and has two big kids and a little. She is definitely a busy mom who needs and wants a proper vacation for the whole family! Check out her other articles on Have Baby Will Travel: Surviving Paris with a Toddler and A Review of the Nickelodeon Punta Cana
Panama City Beach: Our Laid Back Florida Vacation
If you haven't heard of Panama City Beach, Florida, you're likely not alone. Families who flock to Florida tend to head to Orlando, or one of the bigger coastal cities like Cocoa Beach, but Panama City Beach is off the beaten path. And that's what makes it so great.
Unlike the crowded beaches I've visited elsewhere in Florida, the seashore here is practically deserted, with the white sand stretching as far as the eye can see. But while I can spend an entire vacation sitting on a beach chair, my five-year-old needs more action, and Panama City Beach did not disappoint.
There's lots and lots of kid-friendly Panama City Beach attractions. Here's a sample (and a taste! ) of what we did…
Things to do in Panama City Beach, Florida with Kids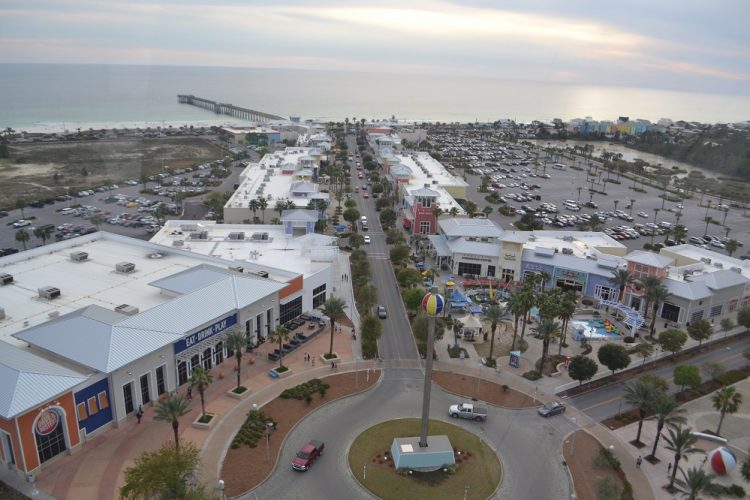 SkyWheel
There is a lot for the little ones to do, especially near Pier Park, the main tourism destination. The newly opened SkyWheel is a big draw, taking riders 200 feet into the sky.
The views of the Gulf coast are stunning, especially if you can time it so that you're on the ferris wheel during sunset.
Cubby Caboose
Pier Park also has a cute little train called the Cubby Caboose that will take you and your little ones around the local shops. My little guy had the most fun on the bungee ride, where he jumped until his stomach was in knots.
St. Andrews Park
Despite being a tourist town, Panama City Beach is remarkably unspoilt. You can still walk along the shore and find hundreds shells and sand dollars (it's the sand dollar capital of the world). St. Andrews Park has a gorgeous dune beach, marshes and several hiking trails.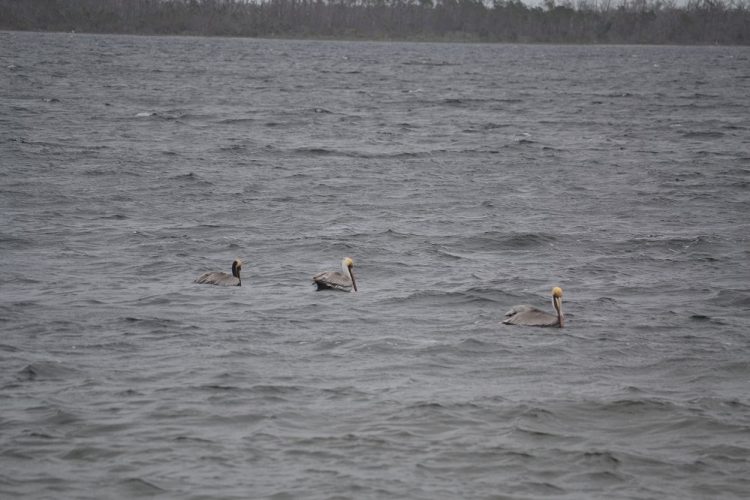 Panama City Beach is also a bird-watcher's paradise. When we visited, we saw pelicans, herons, and ibis. We were told we could also see alligators at the edges of the park's man-made lake. While we took a quick look, I can't pretend I wasn't a little relieved we didn't see any creatures poking out of the murky water.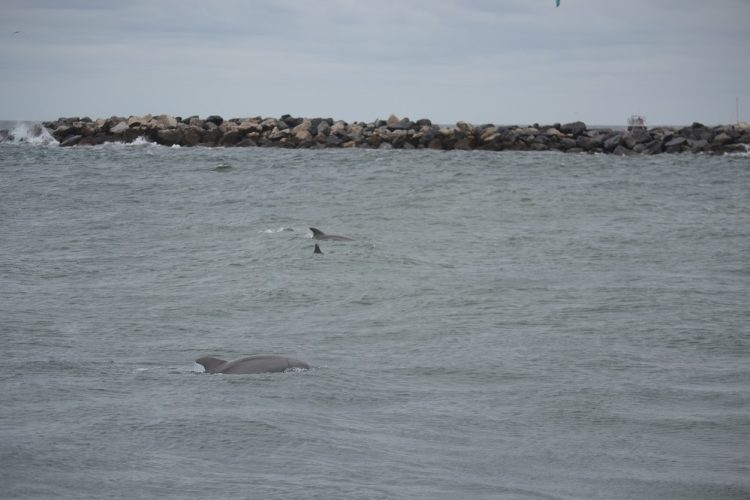 Boat Cruise to Shell Island
The best part of our trip was undoubtedly watching a wild school of dolphins chase its prey. We spotted the dozen or so dolphins while on a boat cruise to Shell Island. We chose the Island Time Sailing cruise, but there are several other tour companies that operate out of the marina including the Sea Dragon Pirate Cruise, which includes pirate-style games and dance parties for the kids.
Shell Island
Speaking of Shell Island, it's definitely worth a visit. The 7-mile island is a short boat ride from the coast and gets its name because the white sand is littered with thousands of shell and sand dollar fragments. You can take a ferry from St. Andrew's Park or rent your own pontoon boat from nearby vendors.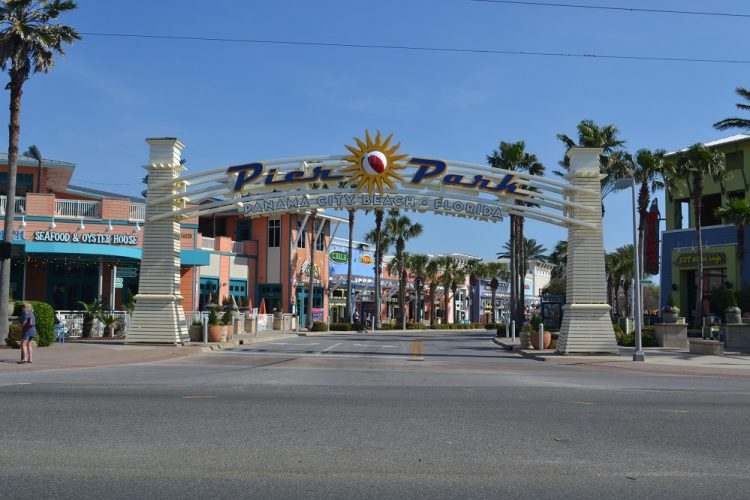 Panama City Beach Shopping
Pier Park is the heart of Panama City Beach. You'll find everything here, from big box stores like Target, JCPenney, Dillard's, and Marshalls to smaller charming boutique shops that line the promenade.
Footprints Coastal Décor offers a wide array of beach themed home décor. It made me happy just to be inside the shop. The Ron Jon Surf Shop is also a one-stop shop for everything you need to be beach and surf ready.
About 15 minutes away is an unassuming store that is quite famous for its seashells. While it's called Daniel's Shells, there are no markings outside, apart from a sign that reads "I sell seashells by the sea shore." There are probably over a hundred types of shells to choose from and Daniel is always there to describe the significance of each one. He even explained the very interesting mythology of the sand dollar to my son, taking the time to saw apart the sand dollar to give us a better look inside.
If you're looking for bargains, the Silver Sands Premium Outlets are about 45 minutes away by car. The outdoor mall includes several regular-priced stores but there are outlets for Disney, Gymboree, The Children's Place, The Gap, and more. To be honest, I didn't find the deals to be fantastic, especially given the exchange rate, but a lot of shoppers around me were carrying multiple bags, so maybe I was missing something.
Kid-Friendly Food in Panama City Beach, Florida
Grand Marlin
The food choices in Panama City Beach are pretty extensive. You can get anything from world-class dining to homey local diners. The highlight was definitely our dinner at the Grand Marlin. The upscale restaurant is on the marina so you can watch the sun set over the water as you enjoy your meal. The seafood is the main draw and I loved the crispy lobster fingers and crab cakes.
Schooners: The Last Local Beach Club
Also on the beach but with a completely different vibe is Schooners Last Local Beach Club. The restaurant has a very relaxed atmosphere but the seafood is just as fresh and (the best part is) they set off a cannon every night at sunset. A word to the wise: cover your ears. It's loud!
Thomas Donuts & Snack Shop
We also loved the donuts at Thomas Donut & Snack Shop. My little guy couldn't resist the chocolate maple bacon donut!
The Yard Milkshake Bar
I saved the best for last, and while I already noted the food selections above, milkshakes deserve their own mention. When I Googled Panama City Beach and read about the milkshake bars, it sealed the deal. I made it my mission to try at least a few different shops out to find out for myself which was the best. In the end, the competition wasn't even close. The rightly Insta-famous The Yard Milkshake Bar blew me away. Did I mention I went back twice? The milkshakes are not cheap – $22 CAD for a shake, but it was a inevitable treat and, if I lived nearby, I can see how The Yard could become a habit.
Panama City Beach with Kids
All in all, the greatest thing about our Panama City Beach vacation is that it felt like a vacation. Although there's no shortage of things to do in Panama City Beach, Florida, nothing was planned. Nothing felt hurried. There were no crowds. And, unlike many trips I take with the family, I did not need a vacation when I got back from my vacation.

Andrea Chrysanthou is a mom, avid traveller, and freelance blogger. You can reach her on Twitter @CallMeAndreaC
Have Kids Will Travel is a participant in the Amazon Services LLC Associates/Influencer Program. If you make a purchase through this site, we may receive a small commission. Click here to check out our Amazon Store.
Find the best deal, compare prices, and read what other travelers have to say about things to do in Panama City Beach at Tripadvisor