A Cuba Family Vacation: Taking Kids on Havana Tours & Day Trips
When your kids play competitive minor hockey, you spend A LOT of time with other families. So we often chat about our fun family vacations while spending long hours together at the rink. Joanne Taylor wrote her tips and tricks for Disney World with three kids for Have Baby Will Travel and I'm delighted she agreed to share her family's experiences here about their day trip to Havana while on vacation in Cuba with her husband and three kids.
*********************************************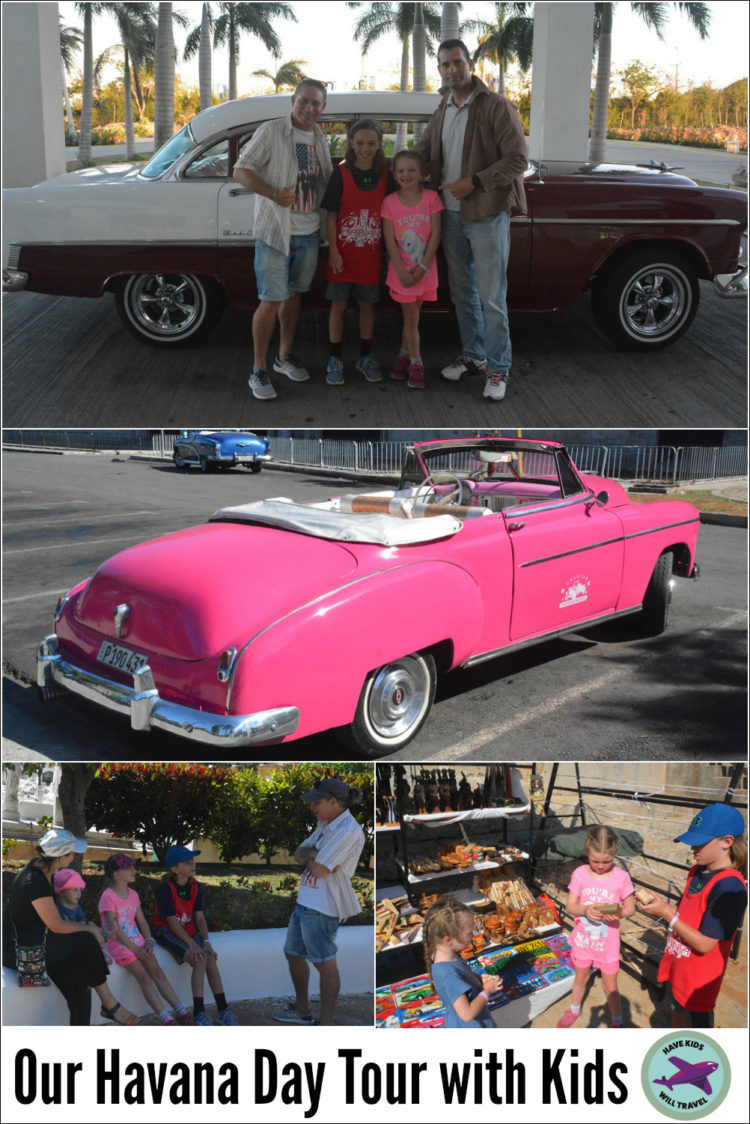 What to Do on Havana Tours & Day Excursions with Kids
Havana has the reputation of being a city that can steal your heart. So on your Cuba family vacation, get off the resort! Book one of the Havana tours or day excursions offered by your tour company or book a cab independently. We are a family of five and our kids ranged from 10 to 4 while we were in Cuba.
Here's what we loved about our Havana day trip: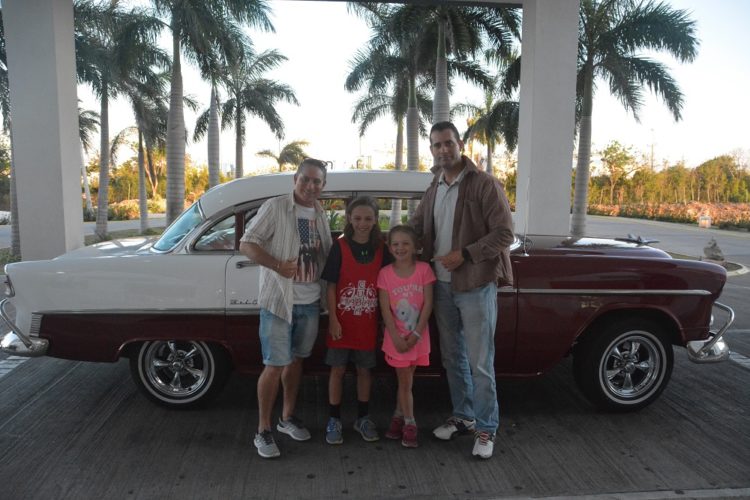 The vintage car tours!
The vintage cars in Cuba are candy-coloured '50s Fords and Chevrolets. They're built like tanks yet are extremely smooth on the roads, even by my son's car motion sickness standards.
The drive to Havana from Varadero is straightforward highway with very little traffic. The two hours in the car gave us an excellent opportunity to connect with our guide. He patiently answered all kinds of questions about modern Cuba while sharing his perspective on old Cuba.
Staying in Varadero means it's close enough to get to Havana and back in a day although we did meet people who stayed overnight in the Cuban capital. To give an idea of cost, we paid $150.00 Cuban Convertible Pesos/CUC (each CUC is roughly equal to the US dollar) for two adults, three kids, a driver, and a personal guide. You can book ahead of time but we arranged a private car through our hotel after we arrived.
On the way, there's lot to look at, including the ocean and countless beaches, and the town of Matanzas where many Varadero resort staff live. We saw farm hands selling cheeses and fruits at the ends of their long driveways. We also stopped off at the area's highest bridge to stretch our legs, take a few photos, and spot turkey vultures.
The Awesome Almacenes San Jose Artisans' Market
Inside the vast, indoor market we had a long wander, looking at all the cow bone daggers and cow bone jewelry (a popular artist resource often dyed), children's toys made out of recycled cans, and other tropical crafts. The kids were allowed to spend their holiday money ($10 CUC on a tank top, one $10 dolphin bracelet, and the girls had their hair braided for $5. CUC each.)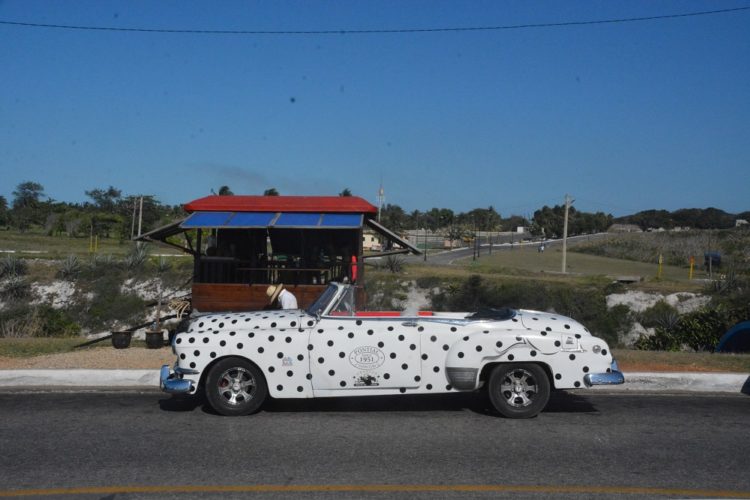 The Tunnel of Havana and Flan
We entered Havana through the 733 meters of the Tunnel of Havana.
Our guide insisted that everyone hold their breath as we went "underwater." He told us the tunnel is located at a depth between 12 and 14 meters and was constructed in 1957-1958.
Driving through the city, we marvelled at the National Ballet and the restored El Capitolio building, to a restaurant recommended by our guide. We jumped at the chance to eat off the resort and enjoy traditional Cuban food. We invited our guide to share our meal and continue our one-day immersion in Cuban life. On his suggestion, we had the pork, crispy, plantain chips, and rice and beans.
The kids had ice cream chasers while I happily devoured the simple yet lovely Cuban flan. My husband had a strongly-made dessert coffee.
Old Havana Walking Tour
Walking was a great way to see the local children playing soccer on the cobblestones between buildings, while laundry blew dry on balconies overhead. Our kids danced along to small, live bands and were fascinated by the fossils inside the limestone used to build a church. From far away you'd never notice, but they're highly visible once you start looking for them.
Strolling along the scenic waterfront, the Malecón (officially Avenida de Maceo), with sailboats bobbing on the waves and the impressive Castillo de los Tres Reyes Magos del Morro (Morro Castle) in the distance, was also a great way to spot locals fishing and chatting on corners.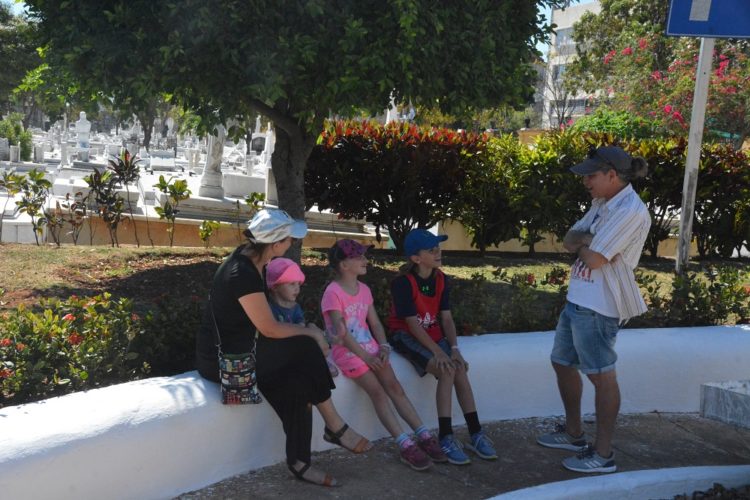 The Christopher Columbus Cemetery
The Christopher Columbus cemetery (spoiler alert – he is not buried there now although he was there enough to name it after him) was extremely interesting both for the architecture and the history.
The kids marvelled at the high, white walls stretching around its 122.5 acres. They wondered if it was some sort of inner city castle.
We parked and walked through the grand entrance, marvelling at the gardens and many detailed marble statues. While we did not pay to go inside where the graves are (our time was limited), we sat on a bench under a tree and enjoyed the peaceful atmosphere. Our guide told us a few stories about Christopher Columbus' travels before and after his death. He has been buried in Cuba, Dominican Republic, and has been in Seville, Spain since 1895.
Near the gates is a cigar store, although you can easily ask your driver to substitute a sugar or rum shop – Cuba's famous exports.
When it was time to say goodbye. We rode through The Tunnel of Havana, the whole time singing Camila Cabelllo's catchy song, "My heart is in Havana, (ayy) Havana, ooh na-na…"
Thank you Havana! Muchas gracias!
Find the best deal, compare prices, and read what other travelers have to say about Havana tours and day trips at Tripadvisor
Joanne Taylor is a make-up artist, artist, and underwater photographer. 
(Ed. note: She is also a hockey mom extraordinaire!)Follow her blog at Underwater Photography for Kids.
Have Kids Will Travel is a participant in the Amazon Services LLC Associates/Influencer Program. If you make a purchase through this site, we may receive a small commission. Click here to check out our Amazon Store.
See Also: