Welcome to Have Kids Will Travel!
My name is Corinne McDermott, and I created Have Baby Will Travel in 2007. Before my first maternity leave ended, we took our very first family vacation with our (then) 11-month-old daughter. I was frustrated by the scattered information available on baby travel – destinations, packing, flying tips, and family-specific hotel reviews – so I decided to create a one-stop web brochure for busy parents with questions on traveling with baby. My supportive husband taught himself the basics, and Have Baby Will Travel was launched from our basement.
From Travel with Babies to Travel with Kids…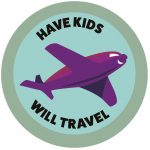 Now I'm a mom of two, and they're not babies anymore! I'm still sharing travel advice, trip reports, and helpful tips, tricks, and resources for traveling with babies over at Have Baby Will Travel, and now I've created a new space for those traveling with bigger kids, tweens, and teens.
Have Kids Will Travel's mission is to help families plan awesome vacations and make travel with kids fun.
Whether you're in the mood for a cottage getaway without the work, or a Cuban adventure beyond the resort, Have Kids Will Travel will help you plan the family vacations of your dreams. Now that your kids will remember your adventures, let's ensure they remember the good times!
Have Kids Will Travel is a participant in the Amazon Services LLC Associates/Influencer Program. If you make a purchase through this site, we may receive a small commission. Click here to check out our Amazon Store.