If you didn't grow up near mountains and spend every winter day cursing the cold and willing spring to come, it's tough to develop a passion for snow sports. The planning, the gear, the layers of clothing, and the frozen fingers and toes… This is all overwhelming to someone who fancies the idea of après ski over actual skiing.
So flying down snow-covered hills with sticks on your feet is not your jam. So why visit a ski resort at all? Especially once the snow has melted? Turns out that during "green season" — basically late spring to early fall — there's way more to do at a ski resort than ski. No specialty equipment or clothes required! And one of the best places in Ontario to visit for families is Blue Mountain. And one of the best times to visit Blue Mountain is green season!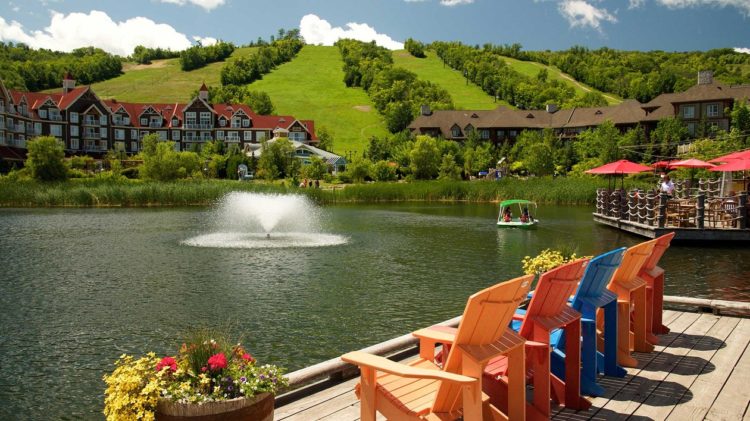 Blue Mountain Resort Is Ontario's largest mountain village resort. It's located just west of Collingwood, and has been in operation since 1941. It has been open year-round since 1977, beginning with the "Blue Mountain Slide Ride," which was a 2,000-foot-long modified bobsled track. Their summer activities now include downhill mountain biking, with bikes and riders taken up in gondolas, as well as ziplines, ropes courses, a climbing wall, hiking trails, a private beach, mini golf, and the Ridge Runner Mountain Coaster. The latest addition to their summer lineup is the Canopy Climb Net Adventure, where children as young as three can enjoy this ultimate tree fort, with ropes and nets and bridges that kids of all ages can't help but explore.
We were looking for a little more than a lazy cottage getaway or Ontario resort, and Blue Mountain was perfect. Parents hate to see tears on vacation. But when they're shed because you're leaving, you know your kids had a great time.
Blue Mountain Green Season: What to Do…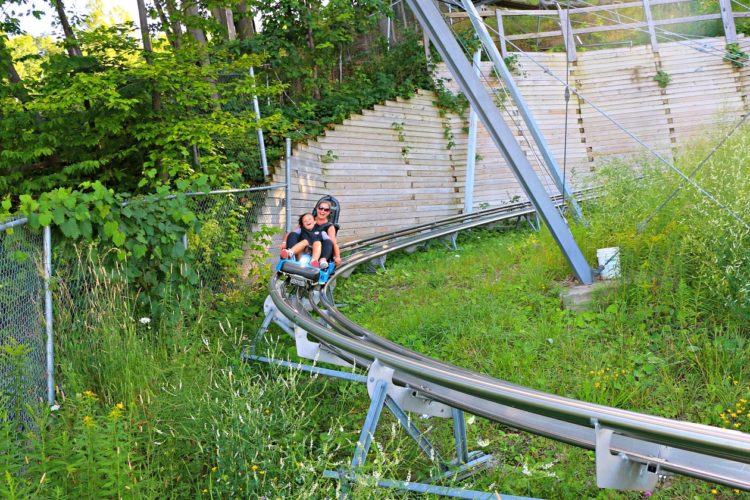 Flying through the forest at over 40 kilometres an hour is great fun year-round. The Ridge Runner Mountain Coaster is a solid kilometre of thrilling dips and turns. Ultimately, however. you're in control of just how thrilling. Riders must be 13 to ride alone. Passengers can be as young as three as long as the driver is at least 16.
Ropes courses are great to challenge your strength and flexibility, not to mention your mettle when it comes to heights and balance. The Woodlot Low Ropes course offers three levels of difficulty for climbers as young as six. They can work their way up to the higher and more difficult levels of bridges and logs and beams to cross.
Head farther up the mountain to the Timber Challenge High Ropes, and push through the more challenging courses that get higher and more difficult as your make your way up. The minimum age for the Timber Challenge is 10. All climbers must be able to reach 1.5 metres for the green courses and 1.8 metres for the blue course and must be 13 to climb without a parent or guardian.
All harnesses and helmets are provided, and participants are given a mandatory basic lesson prior to participating. There is a significant progression of difficulty between the different levels. There are escape routes throughout, should the course become too challenging. The black courses are VERY challenging.
If you'd rather fly through the air without all the pesky climbing and balancing, the Wind Rider Triple Zips zipline provides all the fun without the work. Or, look at it as a fun reward after challenging yourself on the ropes. Riders 10 and up can reach speeds of up to 50 km/h zipping between each 400-foot-long segment. The platforms are 50 feet high.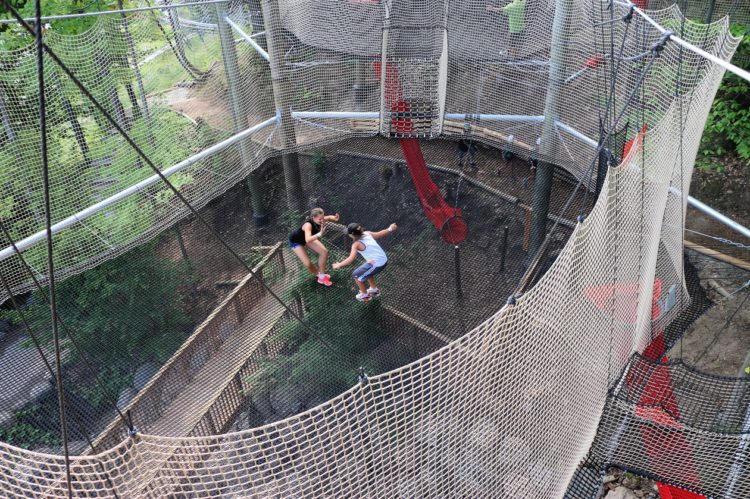 Most recently, Blue Mountain introduced Canopy Climb, the tree fort extraordinaire that welcomes climbers as young as three to get in on the summer adventure fun. Your little Spider-Man wannabe will love the rope nets, slides, and suspended bridges. They'll build the confidence and strength they can look forward to using once they're old enough for the ropes courses.
This is merely a fraction of the activities available at Blue Mountain during green season. There's also a climbing wall and mini golf, a bag jump, and a private beach on the shore of Georgian Bay. Plus, there are and miles and miles of hiking trails. The Plunge! water park is open year-round. Blue Mountain has partnered with activity providers who offer canoeing and kayaking, caving, rock climbing, and Segway and Hummer tours.
Blue Mountain Green Season: Where to Stay…
The beauty of staying onsite at Blue Mountain is that all of the activities are within easy walking distance from your room or suite. We stayed at the Weider Lodge Village Suites, a classic mountain ski lodge steps from Blue Mountain Village. Our suite had a fully equipped kitchen. It was easy (and economical) to sort ourselves out for breakfasts and lunches. And it was a pleasant wander to a large number of restaurant options for dinner.
Blue Mountain Green Season: Good to Know…
Blue Mountain's green season runs from mid-May to mid-October. That's way longer than the average ski season — which is good — because there is so much more to do than ski. Packages combine lodging with discounts on activity passes. Their Play-All-Day wristband offers the best value for adults and children. There are no limits to the number of times you can ride the Ridge Runner. Ask me how I know 🙂
During Covid-19, restrictions are in place, including reserving your dates and activities. CLICK HERE for a complete list of protocols and procedures
See Also:
Have Kids Will Travel is a participant in the Amazon Services LLC Associates/Influencer Program. If you make a purchase through this site, we may receive a small commission. Click here to check out our Amazon Store.
Find the best deal, compare prices, and read what other travelers have to say about visiting Blue Mountain Resort at Tripadvisor